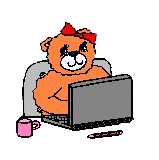 School's Cool!
Help Your Students Learn About Their
School & Develop Self Esteem
For Grades K-1
( $14.95 /95 pp / 8.5x11 / Reusable plastic package )


A new school year is an exciting time for both teachers and students. Young children entering a school atmosphere for the first time can feel excited, timid and apprehensive. This theme unit is designed to introduce children to their school surroundings and develop self esteem by providing fun, hands-on activities that promote learning and a sense of belonging.



An "I Can Read Book" and "Me" Booklet for students to make.


Pocket Chart cards and Sentence Frames


Easy to follow activities that provide skill practise in computers, language arts, reading, creative writing, math, science and arts & crafts.


Simple Science experiments that may be performed by individual students, in small groups or as whole class instruction.


Fun activities consisting of connect the dots, mazes, cut and paste, colouring and matching fun.


Songs sung to familiar tunes.


Fun, rhythmic poems to read aloud.


A play to perform.


Name tags

© 1996-2003 Debbie's Unit Factory All Rights Reserved.
---